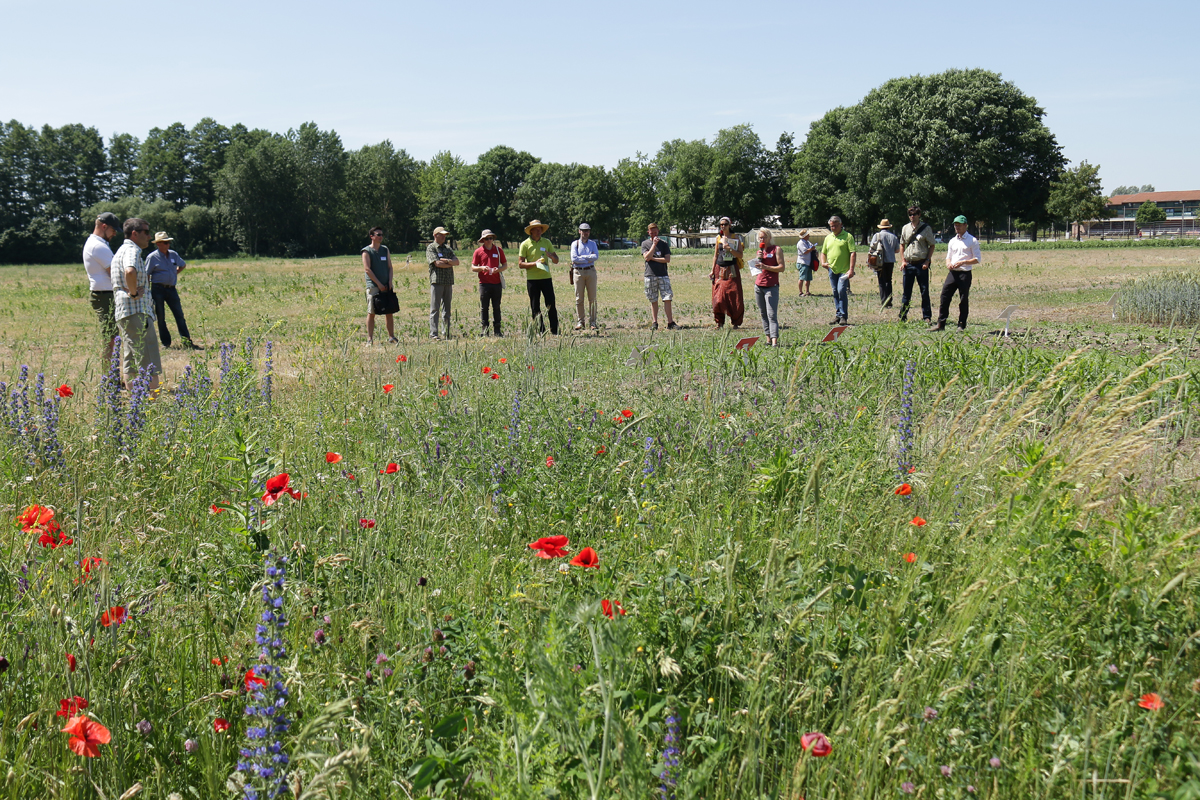 First Information Day at the Plots 2021
All the things that can grow in Brandenburg's fields
It is considered trite to start a conversation or a text with the weather. In this case it fits. On 18 June 2021, the "Agriculture in Dialogue" forum held the information day at the plots – on the hottest day of the year so far. While the spring had still been cold and rainy, the heat wave came quite early at the beginning of June. Thus, the weather on the information day could be seen as a cue for the event. Spread over 69 plots, the organisers showed the farmers what can grow on Brandenburg's fields. The focus was on standard crops, but also on more unusual ones that are suitable in view of changing markets, but also a changing climate – see heat wave.
About 50 men and women from agriculture accepted the invitation to the MAFZ grounds in Paaren im Glien. The BraLa, which normally takes place here, was cancelled due to corona, but the plots set aside for it were rededicated by "Agriculture in Dialogue", i.e. they built their own event. The "Agriculture in Dialogue" forum consists of the Brandenburg Farmers' Association and the Trial Coordination Centre based at the ILU. The cooperation sees it as a task to make expert knowledge more available to farms. One method is to hold an information day at the plots.
Bringing farmers and processors together
The day was led primarily by Dr Andreas Muskolus, head of the Berge Experimental Station, and Maxie Grüter, project manager at the ILU's Experimental Coordination Unit. Muskolus and the staff of the Berge station had planted and maintained the plots, and Grüter had helped select the varieties and compiled a plot guide. Both welcomed the numerous guests who had gathered under shady trees.
Before going out into the field, Paavo Günther, managing director at the Havelmi company, presented his product. The cooperative, founded in 2019, has been producing an oat drink since July 2020. "The basic idea was to develop a regional product, as an equivalent to cow's milk," Günther explains. The product is successful, yet the company from Beetzseeheide needs far more customers to be profitable. Moreover, the founders are tinkering with additional flavours. The current drink is made with organic oats, for which Havelmi is still looking for sunflower producers. At the moment, they are also looking for farmers who grow buckwheat and amaranth, he says. The purpose of the information day at the plots is also to bring farmers and processors together. Amaranth was not on one of the plots, but other interesting crops were.
On four larger plots, different varieties of winter rye, wheat, triticale and barley were growing, which had been tested by the State Office for Rural Development (LELF) in the usual variety trials. Spring wheat, including the increasingly popular Durum variety and the spelt variety Wirtas, approved for Europe for the first time, also waved well under the sun.
Legumes were of course also a topic: soya was established on the plots with and without inoculation with the important nodule bacteria. These included commercially available bacterial strains, but also those native to this region. The Leibniz Centre for Agricultural Landscape Research (ZALF) is conducting intensive research into how well soya can be grown in this country. Chickpeas could also prove to be a big hit in Brandenburg's fields. However, Dr Thomas Gäbert from the Trebbin agricultural cooperative, which has been cultivating chickpeas for a few years, pointed out that some experience is still needed. For example, the seed still has to be inoculated because the associated natural nodule bacteria are hardly present in the native soil, seed is only available to a limited extent, and accompanying weeds such as datura suddenly appear in the fields. There is also still room for improvement in harvesting techniques. The chickpea is sensitive to frost, but "very well adapted to strong radiation". Marketing is still difficult, but chickpea is generally suitable for local sites. The marketing of white lupine is less difficult. This is now available in anthracnose-resistant varieties and is becoming increasingly popular, said Holk Bellin from DSV-Saaten.
The Alternative Silphia
Again rarely found: oil flax. This healthy oilseed crop is well suited to Brandenburg, but the area under cultivation is clearly declining. With its deep roots, oilseed rape does well on sand and requires little maintenance. However, there is a lack of approved herbicides and the pest earth flea can cause problems. Contract cultivation is recommended due to a difficult market situation. The drought-tolerant oil crop castor bean was also presented, which is well suited to local sites and whose oil fetches good prices. However, it should be noted that the seeds contain the highly toxic ricin and the press cake, for example, must not be fed.
Good on light soils, but difficult to establish on sand, and the herbicides approved for maize help against weeds: we are talking about the continuous silphia. "It needs a lot of care at the beginning, but then manages without plant protection," says Stefan Schulze-Bergcamen, managing director of Gollwitzer Agrar GmbH. As a biogas alternative to maize, it yields up to 40 tonnes per hectare, is interesting for insects due to its conspicuous flowering and has the potential to replace plastic as a fibre plant. Stefanie Peters from Agro-Farm GmbH Nauen also feeds a biogas plant – with sugar beet. The sugar market proved to be no longer lucrative, so the company changed tack and successfully turned sugar beet into another type of energy in the biogas plant.
But classic maize was also on show, albeit with an unusual care method. Michael Baumecker, an agricultural engineer at the teaching and research station in Thyrow, pushes the surrounding soil into dams, similar to potato dams, after the maize has emerged. This makes it easier to harrow and hoe the maize.
Currently, hemp is considered to have great potential. In fact, the state parliament recently decided to promote the cultivation of this plant in Brandenburg. The background to this is that the cultivation of hemp is only possible under strict conditions because of some of the ingredients that fall under the Narcotics Act. Many farmers shy away from the web of regulations. In fact, it is currently hardly possible to sell many hemp products legally, explained Dr Wilhelm Schäkel, who has been cultivating hemp on his organic ranch in Zempow since 2015 and uses grains and leaves, for example. However, he sees a huge potential in this crop, especially for Brandenburg, where Havelland is considered the cradle of hemp cultivation. He recommends careful harrowing and double hoeing as well as cupping for agronomic treatment. In addition, farmers should opt for contract farming, as the market is subject to great fluctuations.
Nature conservation in the field
Dr. Holger Pfeffer from the Brandenburg Landscape Conservation Association pursued a rather new approach. He presented maize mixed with runner beans. This near-natural cultivation solution was developed as part of the F.R.A.N.Z. project, which aims to create more space for wildlife and plants. The bean offers a flower supply for insects and, as a legume, provides air-bound nitrogen, which means that fertiliser can be reduced. However, Holger Pfeffer pointed out that the bean requires more water and heat than maize, which is why it suffers in view of the past dry years. In addition, the species, which is weak in competition, is not suitable for areas overgrown with thistle.
For farmers who want to dedicate themselves to nature conservation, seed mixtures for grassland are also an option. Johannes Hofstätter, research assistant at the Eberswalde University of Applied Sciences (HNEE), presented two types of grassland, a fertilised and an unfertilised variant: while the former allows for three cuts, the unfertilised grassland offers only two cuts, but its loose stand provides space for additional weeds, which also provide food for insects and vertebrates.
Speaking of fertiliser. On three plots, the Institute for Agricultural and Urban Ecological Projects (iASP), operator of the Berge trial site, compared the fertiliser effect of nutrient recycling such as mineral fertiliser from liquid manure and biogas digestate. Struvite was also used on one plot. These crystals are precipitated in sewage treatment plants and contain phosphorus. The company Soepenberg, which extracts fertiliser from various residues, offers struvite pellets, which are currently being tested in Berge. Struvite could become a fertiliser for organic farming.
All in all, the information day at the plots was a hot but communicative day. Not only farmers met on site, but also manufacturers of products, processors of raw materials and seed producers. Perhaps some farmer or farmer's wife was inspired to try out a new arable crop on their own fields. That would then be a complete success. The 2nd information day at the plots is planned for 15. June 2022.
Julian Delbrügge
That was the information day at the plots: